So- if you starting to notice a theme, I am putting mirrored pieces in my bedroom. I love the mirrored finish with our gray walls. It adds such a glamorous effect. However, I am not loving the prices that I am seeing for this look. I also wasn't ready to try and cut glass to make my own or search craigslist. I don't personally drive a truck so the thought of buying on cragislist worried me, how was I going to get it home?! So, I online shopped- a nightstand right to my front door- PERFECT!
Here is my hunt for a mirrored nightstand. We have a large bedroom, so we could afford to buy a larger piece!
I am loving these looks....
"Amelie" Mirrored Nightstand - Neiman Marcsus - $799










Amelie Mirrored Night Stand - $799
I also love this one - it was a bit more reasonable but still expensive - especially since we need 2!
"Amelie" 2 door Mirrored Chest - Neiman Marcus - $599
Amelie - 2 door mirrored Chest - $599
Then I found this one on Z Gallerie- still too expensive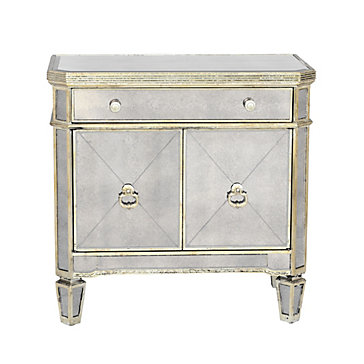 Borghese Nightstand - ZGallerie - $599
Borghese Nightstand - ZGallerie - $599
So, I kept searching until I finally found this one online - at a GREAT Deal. Such a great deal, that I only bought one at first to make sure I liked it. It was so easy to put together! It came right to my front door and was almost fully assembled. I only needed to attached the 4 legs and the 4 knobs. Thats it. I didn't even need my husbands help! After receiving the first one, I bought the 2nd and they look fabulous in our bedroom.
The price was right-
$199 with FREE SHIPPING and no Sales Tax
! I have 2 nightstands for $400- Less than the price of one of the expensive inspiration pieces.
I ordered it from the below website but they are now charging $279.99
Mirrored Cabinet - Keeper Home
I googled a bit more to find the best deal for the above cabinet TODAY-
I found it on Amazon for $229 with Free Shipping-
Mirage Mirrored Cabinet - AMAZON - $229
I absolutely love our nightstands. I will post pictures of our bedroom soon! Please send me anything that you are on the hunt for and I would love to find the best deal!